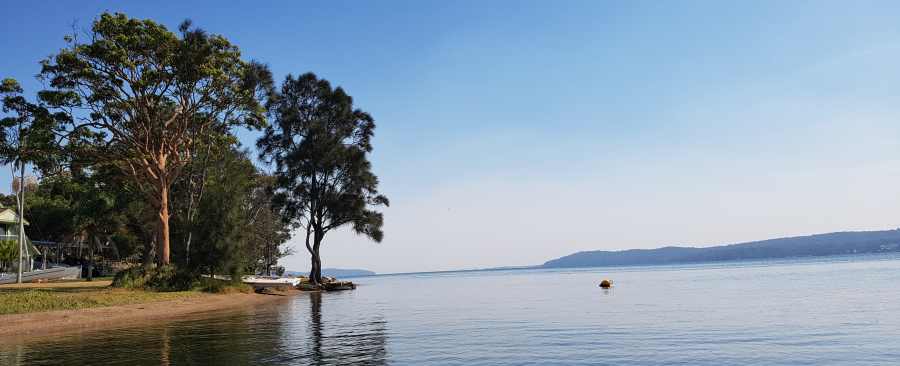 Gwandalan, Lake Macquarie
TOUKLEY KAYAKERS
Welcome to our Website.
Group started in November 2008. Website created on 9 Jan 2009.
Last updated on 2 March 2021
Navigation Bar
Facebook Group page here.
Forthcoming kayaking events:
CURRENT DISTANCING REGULATIONS (1.5M) STILL APPLY ON AND OFF THE WATER.
Bring your own mug and morning tea. Hot drinks will be provided by Sue and Doug.

* Tuesday 9 March 2021 - Wyong River - Panonia Road, Lions Park, Wyong, near the Bowling club. UBD map ref 49 F8
* Tuesday 16 March 2021 - Hardys Bay, (166) Araluen Drive near the end, UBD Map Ref 107 L15.
*

---
Click here
for Knut's 90 Yummy Recipes.
Knut's Youtube videos are here!
We are an informal group of friends who like the outdoors and a healthy lifestyle. This page provides a Notice Board where we can display our kayaking program, and any other information we might want to share, and some photographs of our activities.
We meet on Tuesdays. Launch time is 0900, so if you want to join us arrive by 0845 please. We have morning tea/lunch afterwards. Bring something nice to eat if you can, and a couple of dollars to cover the tea, coffee, milk etc.
We paddle in all lakes, lagoons, creeks and rivers from Berowra to Clarence Town, and everywhere in between.
We generally paddle for 2 hours and travel between 6 and 12 km, at a gentle pace.
Disclaimer - As we are not a club, just a group of individuals who go kayaking together now and then, we have no responsibilities as an organisation, and no organisational status. Anyone who decides to join us on our outings does so on the understanding that they are responsible for their own welfare and safety. We will provide all assistance and advice to visitors, but take no responsibility. Joining our group is on that understanding, and you will be asked to sign confirmation of that fact. We have no insurance - you should provide your own.
Please feel free to send contributions, trip reports, photos or comments by e-mail at toukleykayakers@gmail.com. Weekly reports appear below.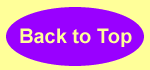 Kayaking reports: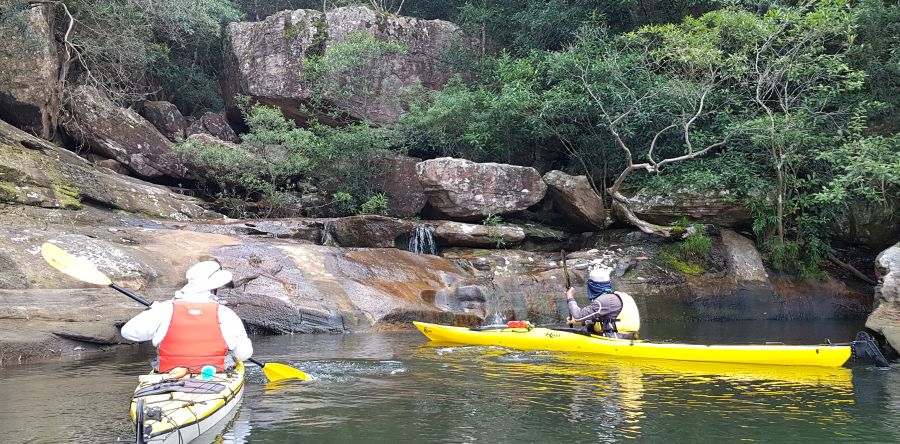 Waterfall Bay, Woy Woy Bay - 2 March 2021
What a brilliant morning on the water! About 25 kayakers and quite a few support staff attended the Yellow Brick Road Wharf at Woy Woy. Several were here before 8 o'clock for some reason, for me it was to get a nice parking space. 22-24°C, a slight breeze until about 10.00, then a bit stronger S to help us get back.
Once you go under the railway bridge into Woy Woy Bay it's like another world, with magnificent scenery - flat water, original forest and bluff mountains. We passed our little private beach (always call in there) on our way to the waterfall, which didn't disappoint us, squeezing out a small trickle.
Back across the bay to the lovely waterfront at Woy Woy Bay (WWB) The Village, photo below, then heading back to home, making sure to glimpse the Parks Bay Yacht Club tucked in the corner before the triple bridges. Most of us paddled about 10km, but John W did 15 as he wanted to go to The Rip and picked up a tow behind the ferry for a while, before joining us at WWB.
The tide was right out at the start, but was coming in at full force on the way back - you had to paddle quite hard to get back under the bridges and through the gap near the channel.
There are more stories and photos on our FB Group page here. We often get people approaching us at venues, like today's, wanting to know how they can join in the fun, and we direct them to this website, at least I do. Thanks everyone for coming, and bringing such delicious m/t, and thanks to Doug and Sue for the tea, coffee and yummy sandwiches.
Danny
The quaint and appealing Woy Woy Bay Wharf - 2 March 2021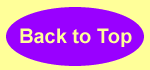 All sorts of onlookers today at Budgewoi - 23 February 2021
With a southerly breeze of 20 knots, solid cloud and scattered showers, we had everything we needed for an exciting day out on Lake Munmorah. About 25 kayakers turned up, filling the small carpark and overflowing into the other one. We headed off towards Munmorah the village and soon copped a drenching rain shower, making it very difficult to take action photos. The alexandrine parrot was the only thing of interest I could find.
We all followed Alan McL downwind with his little sail which worked alright I think. At the first major headland I decided I had had enough and turned around. Mangrove Neil caught up with me to keep me safe and we headed back towards the bridge, but we couldn't see it in the rainy conditions.
Miraculously, as we approached the bridge the rain stopped, the wind dropped and it became nice to kayak again, so we turned towards Lizzie Bay for a while, before returning to the launch venue. I paddled 7.3km and Neil 9km. Everyone did about the same, maybe ten at the moist (sic). I'm just glad I wasn't cycling. The temperature was 20°C, felt like 14 in the wind chill.
It was an enjoyable morning, followed by a delicious m/t, thanks everyone for bringing stuff, and D & S for bringing the makings. There are more photos and observations on our FB Group page here.
Danny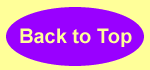 The start of a beautiful morning on Ourimbah Creek - 16 February 2021
Poured rain all night, and some on the way to Chittaway, then cleared to fine and warm for the rest of the day. About 25 kayakers fronted, and several non-paddlers/recouperating, keen to stay in touch.
A couple including AMcL headed down to the lake to try out his new jib, while the rest of us headed upstream for about 3.5km to the railway bridge and rapids/weir. Plenty of water coming over the rocks and concrete, which a few curious kayakers couldn't resist, so they would have had a grand time. From Sunshine Park to the weir is about 3.5km, so I did an extra 700 meters as it was still only 8.4km and still early. Upstreamers would have done up to 14km?
Anyway, a beautiful day for everyone, with lovely hot drinks and yummy cakes and stuff, thanks for bringing all this stuff, and Sue for making the sandwiches. See you next week at Budgewoi.
More photos and short reports on our Club FaceBook Group page here.
Danny
Neil at the weir determined to go over - 16 Feb 2021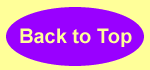 Knut's pic of Brisbane Water - 9 February 2021
A nice-looking morning at The Broadwater, Gosford, with sunny/cloudy skies, warm temperatures but a 15 knot southerly breeze, which, at the top of this lagoon, builds to quite a choppy surface (fetch).
About 24 kayakers gathered today, but disagreed about the destination of our paddle. I saw a large group heading down to Point Frederick, so I followed them, while another group headed over the bay to the railway line and Narara Creek. The former group headed down towards Erina Creek, but diverted to an unnamed watercourse heading up to Avoca Drive, Kincumber. The Narara Creek mob also had a good paddle up the creek, paddling about 12km, the same as the other group.
A few of us found the choppy conditions a bit too edgy, and cut our day on the water short, only to regret it later when everybody else seemed to have a fulfilling paddle. I only did 2.2km and Moonie about 7km. But we all had a lovely morning tea, which included beaut sandwiches by Sue. Thanks everyone for coming and we'll see you next week at Chittaway. More reports and photos at our FaceBook Group page here.
Danny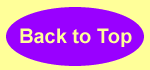 Neil in the Hawkesbury - 2 Feb 2021
Very rainy at 0600 which brought my plans undone, however there were about 9 kayakers who weren't so easily deterred, and made it to this remote spot with their kayaks, while Doug and I came down in his car with Sue and the m/t.
Plenty of room at this time of day in the huge carpark, though many travellers came down to use the facilities during the morning. The tide was right out, coming in as the morning progressed. With it came Kee who lives nearby, bringing fruit cake. Our team headed off up the Hawkesbury towards the 'Parramatta' wreck, though not all went there as we have been there many times, so they went much further upstream, not arriving back till well past 1100hrs, tired but grumpy. Distances achieved were between 10 and 12,5km, so well done. I did help these old guys in and out of their kayaks, which was quite entertaining.
It had rained a lot at this venue overnight, and more as we headed home, so we were lucky to get a paddle in.
Sue brought sandwiches, which together with Kee's cake, and a box of jam drops which I found on a nearby table, made up our m/t, plus some doughnuts which I think Rolf brought. They threw away my jam drops as they had been outside all night, but not before I scoffed a couple.
Next week at Gosford should be more attractive to our membership, so see you there.
Danny

This morning it was raining and didn't look very promising for a paddle on the Hawkesbury but about nine paddlers and Sue and Doug assembled at the boat ramp at Deerubbun Reserve. We headed upstream with very little effort sometimes speeding along at better than 9kph. Incoming tide and following breeze. In 25 minutes we were at the HMAS Parramatta wreck. We spent some time looking at the wreck then headed to Bar Point to have a look a house that Al's nephew is building. There was a discussion about making this the Toukley paddlers new clubhouse. The wind had now turned to the west and was blowing a little stronger so with the incoming tide and the opposing wind, crossing to Prickly Point was interesting. Through the channel between the mainland and Milson Island and all the way back to Peat island was flat and calm although against the tide so 9kph was not achieved. Lots of large Jellyfish in the river. We were back a little late for morning tea but the weather stayed warm and dry for the whole paddle. I really enjoyed it. As Harry and Bob were not there I presumptuously took it upon myself to take photos. Not up to the usual standard but I am the apprentice.
Neil
These reports and some photos are on our FaceBook Group Page here.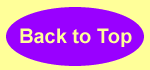 Lovely morning tea at Wyong River, Tacoma - 26 January 2021
Happy Australia Day to one and all. We, all 5 of us, had a lovely paddle this morning out of Tacoma. Bob C, Les, Moonie, Doug and I went up river to the bridge (10.4km) it was warm but not overly so, with a hint of breeze occasionally. Lots of family groups were setting up along the bank of the river for the day. While we had morning tea the wind came up quite strong at times, so we were glad we were off the water by then. Morning tea was damper with either Golden Syrup or Vegemite and the obligatory Witchetty Grubs. I hope you all have a wonderful day. How lucky are we?!
Sue
Charlton Is, Wyong River, where Danny rescued a little dog 3 weeks ago - 26 January 2021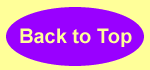 St Huberts Island Bridge - 19 January 2021
Kayaking at Davistown on Brisbane Water was a bit of a struggle today, because of a stiff breeze (45km/h) we had to fight against. Then the rain caught up with us. (About 28 kayakers on the water)
Knut
More comments and photos on our FaceBook Group Page.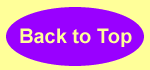 Toukley kayakers on the mighty Wallarah Creek, San Remo - Tuesday 12 January 2021
A magnificent morning at Wallarah Creek, San Remo - sunny, warm, nothing else. At least 30 kayakers made their way to the little bit of dirt beside the river, next to the Charmy Bridge, taking every last parking space and then some. One of the neighbours complained that he had gueats coming for lunch, but we coudn't help him.
A few of us paddled from home on Budgewoi Lake, which lessened the crowding. We all paddled upstream under the bridge to the fork up at Blue Haven, Wallarah Creek (WC) to the left, and Spring Creek to the right, splitting ourselves up at that point. We went as far as we could up WC, under the railway bridge to a point where we could go no further without a chainsaw.
Back again, past the quite big tributary, maybe somebody tried it out, but most of us went on to Spring Creek, with houses and a few barking dogs. Quite pleasant and interesting, with some going miles up that waterway, and some like me only going a few hundred meters.
A lovely downhill paddle back to the launch point, in my case taking about 100 minutes, covering 8.5km. Doug and Sue had the m/t going, with her nice sandwiches and everybody else's tasty treats Thanks to everyone for bringing stuff, and for coming out on such a nice day when you could have been doing the garden instead. Ha!
More participant reports and heaps of photos on our FB Group page here.
Danny

So relaxing here - Wallarah Creek - 12 January 2021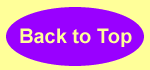 Neil shares the Wyong River with a SUPper - Tuesday 5 January 2021
A perfect kayaking morning - sunny/cloudy, warm (25°), light breeze <5knots, about 29 kayakers. Former paddlers Ray and Merrill came to say goodbye before moving north.
We all, as far as I know, headed west upstream towards the railway/hwy bridges, some went further, Moonie for instance with a few others paddled as far as the weir, finding it full of rapids after our recent heavy storm. His distance was over 16km, well done you guys! I went as far as the bridge, making a total of 10.5km.
On the way up to the bridge a few of us paddled up the channel around Charlton Island, a favorite bit of paradise. This time there were dogs barking at us. One dog, a fat old arthritic pooch, a pug or something with a squashed nose and too big tongue, was running along its timber embankment when he fell over the edge into the water. So funny, but with a touch of concern. It wasn't too deep, so the dog could stand up but didn't know what to do, trying to climb back up the timber wall. I approached the scared little animal gently, no video unfortunately, and guided/pushed it towards the boat ramp about 1.5m away. The water got deeper so the dog had to swim and soon found the ramp and safety. He shook himself then went inside to cower, but when we came back on the return trip there he was barking at us again. Ungrateful mutt!
That's a hard act to follow, so that's it for this week. Next week we'll be at San Remo on the mighty Wallarah Creek. Lots more photos on our FaceBook Kayakers Group page here.
Danny
Danny and Lori cruising up the Wyong River - 5 Jan 2021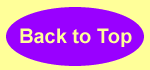 Cool, cloudy and rainy day at Dora Creek - 29 December 2020
We had 13 paddlers today, at Dora Creek, undaunted by the grey sky and threat of showers. We paddled to the M1 bridge and then the group split, paddling 3 different creeks. Between 10 and 15.5kms paddled. And yes, it did rain, at times heavily. All were wet through by the time we got back. At morning tea we celebrated Rolf's upcoming 80th. It was good to see Rob & Robyn call in to have morning tea with the group too. Wishing everyone a very Happy and Safe New Year. Phew, we made it! Yay! Roll on 2021.
Sue
More photos on our Facebook Group page here.
Tuesday 22 December 2020 - Myuna Bay, Lake Macquarie
Well, here we are, we made it thus far through 2020 and are looking strong for 2021. Even though the weather prediction was dire, the rain didn't eventuate and we had a good roll up today, 19 paddlers and 4 'land crew'. For a tiny bit of Christmas cheer, the "tea fund" bought a carton of beer, enough for everyone to receive one. Surprise!!
Wishing each and every one of you and yours, a very Merry Christmas. Stay safe and healthy and fingers crossed 2021 will be all we can optimistically hope for.
Sue

Nice day on the water at Myrna Bay with a big roll up of keen Toukley Kayakers and Doug and Sue's cold beer at the end of the paddle did not go astray.
Alan McL
As usual, there are more wonderful photos and comments on our FB Group page here.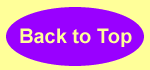 Friede on his excellent sit-on, Budgewoi Lake, Toukley. Photo by John Stone 15 December 2020
Humid rainy morning, so didn't bring my kayak, but when I got to Peel Street, there were half a dozen kayakers (7 actually) there ready to go. Plus a couple of other non-paddlers, but they had medical excuses. Bugger! It didn't rain, or shine, but the breeze was quite firm at 15 knots from the east (from the ocean, Bobbie).
In the water at the boat ramp, and off towards The Beachcomber, then under Toukley Bridge and up to Canton Beach. Back again the same way, straight past the ramp and on to the golf course. Not too far out, though a few came back across from the middle, despite the wind. Mostly about 7.5km
Doug, Rolf and I all left the scene, but came back later with morning tea stuff, in fact everybody had something, so we had a very nice tea-break, and extra people just turned up so it was quite sociable despite the gloomy outlook.
Danny
Choppy conditions on Crangan Bay, Lake Macquarie - Tuesday 8 December 2020
A mild sunny morning at Gwandalan, with fluffy clouds and a 10 knot SW breeze, building to 15 knots by 11.00. As best as we could count, we had 28 Kayakers joining us today.
There's only two ways to go from the beautiful park where we start, viz up towards Point Wollstonecroft, or down to the bottom of Crangan Bay to visit the creek. This proved to be a disappointment as the creek is only about 100 meters long, so we just continued up the east side of the bay towards Nords Wharf. Not all of us mind, some just turned back, and some never came anywhere near the creek. Quite a few paddled north for a while then headed across the bay and up to Gwandalan CBD, with many expensive boats and interesting houses. A few kayakers made it up to the Point (Woll.), but it was windy and getting worse. In fact, by the time morning tea was under way, it was blowing so hard we probably wouldn't have even gone out. Except maybe for Alan.
But it was all fun, and apart from the breeze, a perfect day for a paddle. Thanks everyone for coming, and thanks to Doug and Sue for bringing all the essentials, even though not paddling, and lastly thanks to Denise for helping me with my kayak off and on the car.
There are a lot more photos on our Group Page on FaceBook here.
Danny